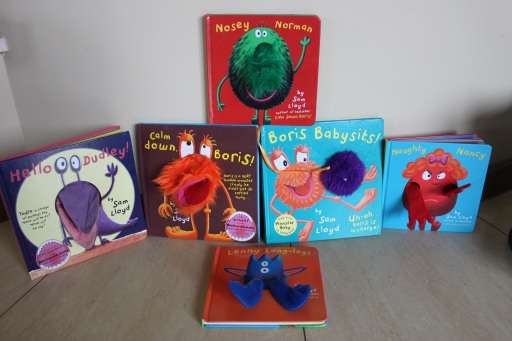 WE READ AND REVIEW OUR BOOKS – PART 1 
I have written "we" on purpose because my daughter's opinion is more important than mine. We differ and she often surprises me with her likes and dislikes. To give you an example, we have quite a plain book among all the others. When writing "plain" I refer to my first impression. My sister-in-law claimed her kids were crazy about it (Maja's two cousins live in England) which surprised me. There are only three words in the whole book and it's full of pictures. 
When I got it, I read it to Maja additionally describing illustrations to make up for the missing text. Maja asked for more…and more…and more…and this book has become our hit. Moreover, my baby can say all the words it contains but this is a topic for the next review. Today I would like to focus on our first books. 
USBORNE BOOKS, "THAT'S NOT MY …" SERIES
We can easily guess the content after just one look at the cover. If the title is "That's not my puppy" we can be sure that there is a pup on each page which is not ours for one reason or another.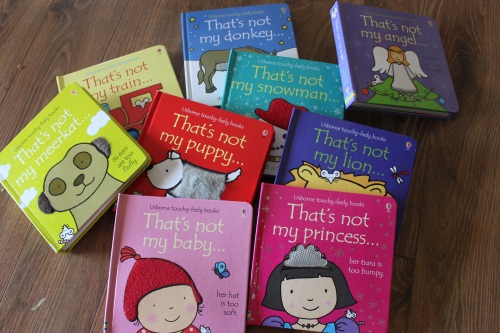 There about five pages in every book. On each page there is a negative sentence with an explanatory one, for example: "That's not my baby. Her bib is too squashy." At the end of the book we find an animal or a thing or a creature which is ours, for example: "That's not my baby. It's you." Each book follows the same pattern no matter if the main character is a baby, a dog, a meerkat or a train.
Maja likes the book about a baby the most. There is a mirror on the last page where it says: "That's my baby." and she can see her reflection.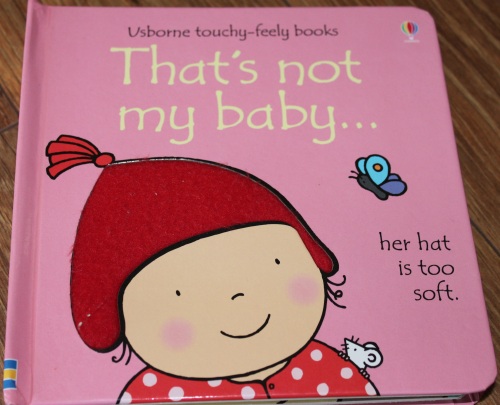 These touchy-feely books are made to give various sensations. Our baby can feel a soft bib, a hairy dog or a rough surface of something. The pages are thick enough for a toddler to turn them over. Another advantage of the books from this series is that they are virtually indestructible. The baby can even bite the book without doing any harm to it.  
I think the book about a train was among my baby's least favourite ones. However, she has rediscovered it recently after a few months and she is really interested in it.  
MONSTER BOOKS BY SAM LLOYD
I coudn't wait to receive these books. I had read the description on the Internet and I had imagined that you had to unfold the book somehow to get a monster. Somebody even commented in a book review section that it was difficult to put the back to its original form. It's hard but only for a baby. It's a piece of cake of any adult. No matter when the book is closed or open, the monster is not foldable and it is always there but he changes pages.
I decided to buy monster books after I found "Naughty Nancy" somewhere online. I got interested in the cover and I started reading and found out there were more books in the series. All books are a combination of a glove puppet and a book. Each has its own magic and each aims to teach something.
Thanks to "Naughty Nancy" my baby understands the meaning of the word "naughty." While I was reading she made this funny finger gesture aimed at the main character meaning "You're naughty, shame on you." She did the same while she was turning over the pages by herself or when she had done something naughty. It doesn't mean though, this stopped her from doing naughty things 😛 She realized it was naughty but still the temptation to break the rules was stronger.
The whole situation was hilarious: Maja showing disapproval of her behaviour with this "shame on you" finger gesture, looking at me and then, doing something naughty. She made me laugh even more when she demonstrated her disapproval in the same way when I wanted to do something she didn't like. 
One mum told me that her kid is scared of these books. My baby loves them all. Maja loves naughty Nancy, cute and cuddly Boris who sometimes has to babysit a little monster baby in the book "Boris Babysits" or who is really uncontrollably tickly and kissy in "Calm Down, Boris" and all the others: 
long-nosed Norman from "Nosey Norman" who can teach our toddlers numbers and the fact that it is sometimes better not to be nosey 

yellow one-eyed Ernie from "Ernie the Eye Monster," who looks for his yellow mummy among the other colourful mummies. He finds her at the end, of course. As you can guess your child can learn colours from this book. 

long-legged Lenny from "Lenny Long-Legs," who can't keep his legs still and constantly does the opposite things such as: a short jump and a long jump. However, the opposites attract each other and Lenny finds a friend who is completely different but as special as Lenny. 
Apart from the book function, we can use them to play peek-a-boo. After we take out legs or nose of one of the monsters, we have one or two holes to poke our fingers into or to show our eyes etc. The game depends on our creativity. 
You can see the whole exemplary book on the video. It's my pleasure to introduce Nosey Norman: 
Our little library has expanded a lot since my first entry about books for babies and toddlers. I and my husband do our best to cherish Maja's love for books and to build her positive attitude towards them. I think the chances are she will like reading in the future because we follow all the principles I mentioned here.
Have you found my reviews useful? If yes, share with others. I am really curious which English books do your kids like? I would be pleased if you leave a comment and share your experience.
You are invited to follow Facebook fanpage and to subscribe for this blog.