​
LIST OF BOOKS
My list of books to be read is really long. It includes the ones which I have found by myself and the ones which other mums recommended to me. In this section you will find only the books I have actually read, not the whole list. I prefer to have a personal experience with a book before recommending it. To save you some time, there are links. If you click on the title you go to Bookdepository. If you click on the cover you go to Amazon. These are the biggest bookstores online. 
BOOKS BY GLENN DOMAN
If you haven't started yet or if you are at the beginning, it is worth reading all Doman's books. Don't believe instructions which often come with the cards unless they come straight from the Doman's Instutites in the USA. Even if there is a translation in your language available, I recommend reading in English. I found some inconsistencies in the Polish translation. 
You can easily find the schedules for the Doman method and much more on the Internet, however, they do not always reflect the actual recommendations by Glenn Doman. I have read a lot of blogs and webpages related to this topic. I was surprised how much criticism it receives. It mostly stems from the fact that some parents think that the number of sessions recommended by Doman in the first schedule is a must. Parents trying with a bit older kids face a great challenge. Reading the book in English (the original one) I was under the impression that although Doman provides us with a detailed schedule and it is really intensive, these are suggestions only. After reading his book about reading and others I am sure that he not only allows modification and adaptation of the programme to a parent's and a child's needs, but also encourages it and constantly reminds us to be ready for change at all times. 
Below you will find the list of my sources. I know most parents start with a book about reading. After I have read five of Doman's books, I find it hard to judge which should be the first and which is the most important. Each of them introduces something new and sheds new light on various aspects of the method (e.g. in the one dealing with encyclopedic knowledge you will find a really important reference to reading which is not to be found in the book about reading). You have the full picture of the Doman method after reading and rereading all of them and putting all the bits and pieces of information together. Like I have mentioned before, both the titles and pictures have links to online bookstores for your convenience: 
"How to Multiply Your Baby's Intelligence" Glenn Doman, Janet Doman
"How to Teach Your Baby Math" Glenn Doman, Janet Doman
"How to Teach Your Baby to Read" Glenn Doman, Janet Doman
"How to Give your Baby Encyclopedic Knowledge" Glenn Doman, Janet Doman, Susan Aisen 
"Fit Baby, Smart Baby, Your Baby! From Birth to Age Six" Glenn Doman, Douglas Doman, Bruce Hagy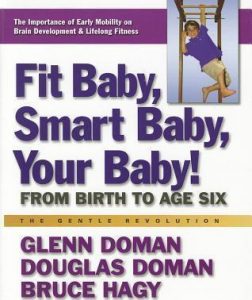 I really recommend reading the above if you want to get a thorough insight into Doman's philosophy and to understand why it is so important to start education so early. However, you will find the whole programme with necessary details, step by step on my blog. I introduced some modifications from other sources and my own ones which considered necessary to maintain the interest of a little one or, simply, to make it more fun.  
OTHER BOOKS ON DEVELOPING CHILD'S POTENTIAL OR DEALING WITH CHILDREN FROM BIRTH TO 6 YEARS  
"The Learning Revolution" Jeannette Vos, Gordon Dryden
This book has been on my shelf for over 10 years. It was included in the biography of my BA thesis. I have reread it but I remember that I was really impressed by the content. The authors make a lot of references to Doman and others. They focus on the brain growth in early childhood and early education.  
"How to Talk so Little Kids Will Listen: A Survival Guide to Life with Children Ages 2-7" Joanna Faber, Julie King
I have just started reading this one and I can't help smiling. The solutions presented really work and it is fun to read. I find myself laughing at almost every section. The authors have a great sense of humour. I will write someting more when I finish. 
AVAILABLE ONLY IN THE POLISH LANGUAGE
Though it hasn't been translated into English I mention the following book here, because I make lots of references to it. It broadens the knowledge about the Doman method providing fresh, modern ideas and puts everything into a new perspective. 
"Jak kreatywnie wspierac rozwoj dziecka?" ("How to support the development of your child – the creative way") Natalia i Krzysztof Minge
This books dispels all the doubts one may have if his or her native language is not English, especially if it is more complex than English for which the Doman method was created. The authors are Polish and as you might have heard the Polish language is one of the most difficult languages in the world. We have more exceptions that rules when it comes to its every aspect. They make references to Glenn Doman and to other pioneers of early teaching and learning. They offer a wide range of games with kids and various possibilities of unleashing their potential.
Have you found the list useful? If yes, share with others. I would be really delighted if you leave a comment and share your experience and ideas. 
You are invited to follow Facebook fanpage and to subscribe for this blog.
I have created a Facebook group for parents doing Doman as I haven't found any. This is just the beginning but I hope there will be more and more of us soon and that we will share our experience with one another.