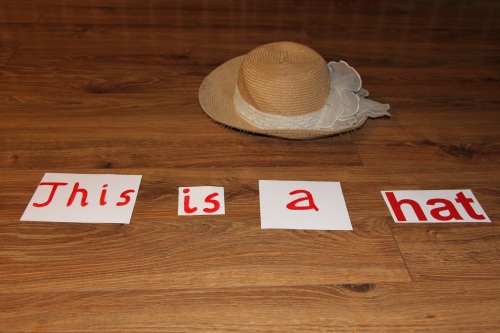 NEW PERSONALIZED BOOKS
We continue reading personalized books which I mentioned in June. We do it interchangeably with jumble sentences which I mentioned in the same entry. The first book about Maja which I made for my daughter was focused on actions. It starts with a question: "What is Maja doing in the pictures?" and a huge question mark on the next page. The following pages contain sentences such as "She is playing with the car." and pictures illustrating them. The page with a text comes first. The illustration is on the following page, for example, of Maja sitting on the mat and playing with her car.
Quite recently, I used our first book at school during the lesson with my 6th graders. We were focused on Present Continuous tense. The students were really interested in the lesson and the engagement reached its maxium level. Their task was to match the pictures and sentences. This was a follow-up to answering questions about what Maja is doing in the pictures. When asking questions I presented the pictures only. 
My next idea was a mini-book about my baby's feelings and it starts with a question as well: "How is Maja feeling in the pictures?" and a large question mark. The following pages contain sentences describing her feelings which are illustrated in the pictures.  The mini-book finishes with a question about how she is today and instead of a picture I provided her with an answer: "I'm fine, thank you.". In my first post about personalized books I presented the pictures of the first version. Below you can see next editions.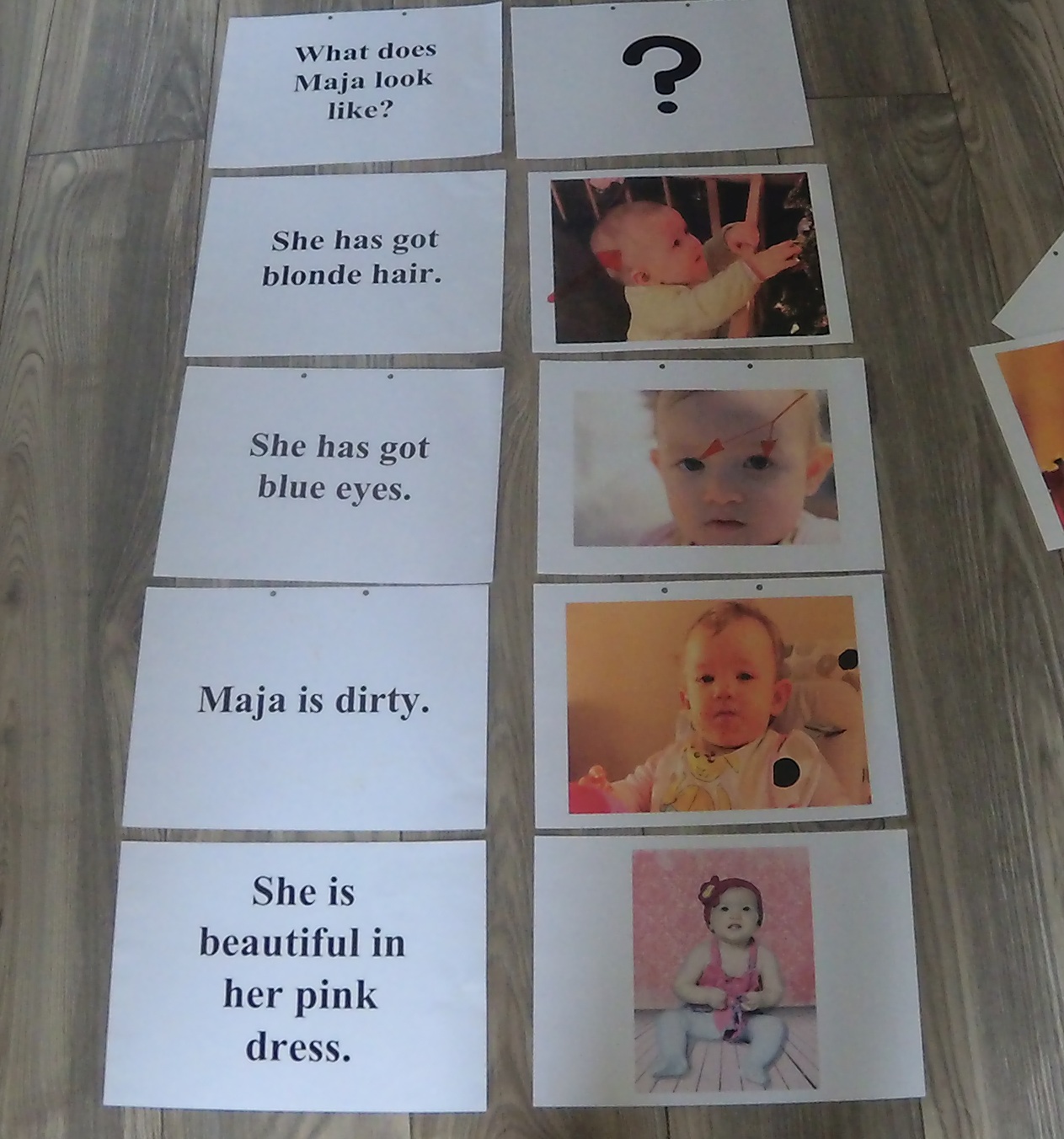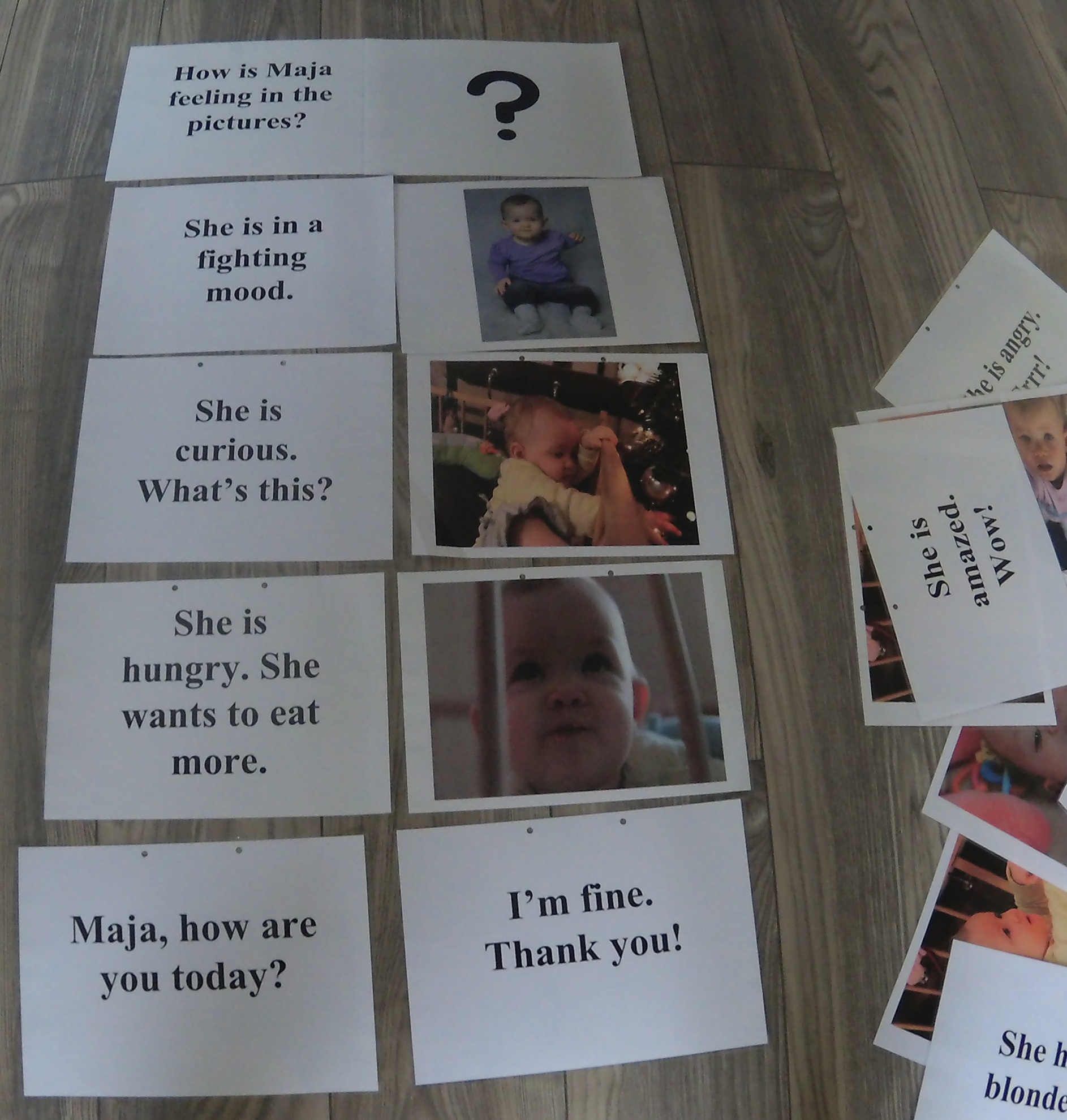 I laid the cards on the floor only for the purpose of taking some pictures. Later, I punched holes in each of them and I bound them together. It gives the impression of a real book when I read it to her.  
We haven't read the book about Maja's appearance yet. You can see it in the pictures above. At the moment, I don't have any new ideas. Maybe one of you – readers will give my some ideas as for the next subjects I can use to create other books for Maja. So far, I have been inspired by Maja's pictures. 
MIND THE FONT WHEN TEACHING READING TO A BABY
Some time ago I took part in the contest for the best video with summer games including the whole-word reading. I sent the short video with  Maja having her reading sessions in the Polish language with daddy (I am going to embed this video here, on the blog soon) and some photos of Maja browsing through the book in English I made for her. 
There was some  criticism that the font I use is not appropriate and that the spaces between the words should be much bigger. According to the author of the modified version of the Doman method for the Polish language the font should be as simple as possible and that we should use, so-called sans-serif font. Somebody recommened Verdana. However, I used Times New Roman in all the mini- books I have created. I focused on the size and boldness of letters. 
They also approved Century Gothic. It makes sense to me and in the following books I will create for my daughter I will use a different font. However, I think I won't change the ones we have already started reading. 
When Doman was working on his method, there were no computers available and because of this he doesn't mention the font issue in his book "How to Teach Your Baby to Read"
.  In those days parents must have been writing words by themselves and I guess however they did that it was acceptable and they had amazing results. It is also important not to use capital letters with the exception of proper names. When handwriting we try to reflect the printed versions of letters. 
I verified the font in books Doman recommends for the next step of his reading programme. He is the author of one of them. Indeed, the font is really simple and certainly belongs to sans-serif font types. I hadn't paid any attention to this before. However, I can't tell if it is Verdana or something else. What I noticed is that the spaces are not greater than mine.  
Update: After a while I had to return to this post. I have been wondering for some time whether the above mentioned fonts are really the best. Particularly, the letters "a" and "g" have been on my mind. One of the inspiring mums I have been chatting with recently uses Calibri. I think I will start using it, too. Especially after I compared Verdana, Century Gothic and Calibri font with the one in "Enough, Inigo, Enough"
 by Janet Doman and it seems similar (the letters "g" and "a" are the same and in the others they are not). I hope this change won't confuse my baby too much. I am writing an update to this post for you so that you can start with the best possible font. If you are reading this because you are thinking about starting the reading programme with your baby, I advise you to use Calibri font from the start. If you are going to buy a ready-made set of cards, check the letters I have mentioned here (a,g) first. I guess our English set used Calibri or something similar. Our Polish one- unfortunately not. 
WE AGREE TO DIFFER
I must admit I don't agree with other things proposed by the author of a modified whole-word reading programme – Maria Trojanowicz-Kasprzak- with all the complexity of the Polish language in  mind. She suggests a lot of games and fun ideas on her blog  which is a good thing, of course. Unfortunately it is only in the Polish language but I have "stolen" the best ideas for playing with the cards and you will find them on my blog, among my own and other mums' ones. However, it seems she extremely reduced the programme catering to the needs of really busy parents.  What is more, she reduced it to games only. To the best of my knowledge, the speed of flashing is the key and most games with the cards, however fun they are, significantly slow the session down. I have been reading a lot (you will find the list of some books soon in the main menu) and I know that Doman's reading programme is not only about reading. It is about developing your baby's brain. It is about stimulating the right hemisphere before the left one starts to dominate (I will share the details sooner or later). Therefore, we have to do our best to flash a lot and to introduce games with cards only in the times of a crisis or as something different from time to time. 
I have exchanged a few e-mails with Maria Trojanowicz-Kasprzak and I know that her reading programme is just inspired by Doman but almost completely different from his. It seems that the use of the flashcards is the only thing in common. I think really busy parents who don't have time for their kids (poor kids!) must be very grateful to her. They don't have to introduce a certain number of words daily, they don't have to do the programme every day and they don't have to follow any schedule or repeat the words certain number of times. Moreover, according to her, we have to show the illustration with a caption first and then the text alone. I support Doman's approach more as a teacher because I don't believe that we will obtain any measurable results without being systematic and without repeating things a necessary number of times. I also believe that speed-flashing the cards is the key. I don't believe that a sporadic contact with the words will make the child memorize them. Furthermore, when it comes to first books Doman recommends presenting the text first and then the illustration.  I think this applies to the illustrated flashcards, too. 
Nevertheless, we all differ and each person has his or her own opinion so I leave it to you to decide which version of the reading programme appeals to you more. When writing "appeals" I don't mean it in a sense that it is easier and it feels more doable. What I mean which version is bound to produce measurable results.   
What I support in Maria's approach is that we shouldn't teach the alphabet to 2- and 3-year-olds. Another fact we agree upon is that we shouldn't use capital letters when writing words for our babies with exception of proper names.  
I also find the idea of "shower of emotions and feelings" which she presents on her blog. The term itself was coined by a German neurobiologist who claimed that a successful child teaching requires emotions. If new knowledge doesn't evoke any emotions, it doesn't remain in a child's memory either. It is obvious that we focus on positive feelings only and we make our baby laugh when we learn and play. However, we don't laugh through each and every of our sessions of maths or reading. It would be too artificial. I think laughter needs to be something spontaneous. I believe my baby's brain is well stimulated during each session and that the programme I am doing will be effective despite the fact strong emotions are not always present.
There is more I disagree on. Apparently, speech therapists and psychologists are against teaching reading in two languages simultaneously when a child is under the age of 3. This, however, doesn't matter when we just speak. So far I haven't been able to find any research at all with regards to this. However, I suspect they may be talking about confusion it causes when mum presents words both in Polish and in English or in any other pair of languages. We follow the OPOL strategy of raising a truly bilingual child (one parent, one language) and with Maja's reading programme we stick to separation of languages: my husband presents word in Polish, I show words in English. 
I must share this with you: while browsing the Internet in search of negative effects of introducing reading in two languages at the same time I came across a blog of an American  mum who went to greath lenghts so that her son knew as many as 4 languages at the age of 3,5. She spoke English and Spanish and she started two simultaneous reading programmes in those languages. She followed Doman but it was her idea to use different font for English and Spanish words. 
She claims that it is best to start teaching the foreign language before the child is under 2. I am wondering now if I shouldn't be taking Maja with me to attend my lessons of Italian just to listen to the melody of this beautiful language. I have lessons with a native speaker of Italian. As you can see I couldn't find anything scientifically based on this topic. The opinion which is not well-grounded and not supported by any research doesn't convince me. Moreover, I feel more persuaded by the blog of a mum whose son could speak 4 languages than but a sheer opinion of somebody who may be regarded as a kind of expert in the field of early development but who is not trustworthy enough for me. What do you think?
JUMBLE SENTENCES
I already mentioned in June entry which I refer to quite often here that we had already started this step and not much has changed since then. Most often this is me who orders the cards into sentences. Maja peeps only and if asked she gives me one of the cards which I use to make a sentence. 
After the last five days with jumble sentences I came to conclusion that after 3 days it had become extremely boring for me. I assumed Maja was feeling this way, too. We had been using the same words over and over again and I bore in mind that she had already seen all of them before in our presentations.  
Doman doesn't provide a detailed instruction as for how often we should play this game so I assumed the rules are the same as for everything else. I started changing the words to speed it up. I have already prepared the next set of words to be used in jumble sentences. I am going to retire all the key words used on a given day and add new ones in their place. The words like "a" or "the" are bound to be repeated which is quite obvious.
We started with sentences about actions. Actually, Doman is quite succinct when it comes to providing examples and the sentence about somebody doing something is the only example he presents in his book "How to Teach Your Baby to Read." 
If you want to see a picture of one of our first sentences you can find it here. If possible, I demonstrated the action. Back then, I recycled our retired words and that's why our sentences didn't begin with capital letters.  Later, we had "touch" sentences such as "Touch blue". We demonstrated the meaning of each sentence like this by touching different things and colours. It seems our baby remembered the word "touch" because she says it quite often. When I took Maja and we paid a visit to an old lady who still owns a cow, she said she wanted to touch it. I mentioned our visit when describing Maja's speech development.
I am going to start our next sentences with "This is." I am going to choose the objects that can be easily found in our house. The main picture for this entry presents an exemplary sentence. 
Although the ready-made set of words which I bought consists of about 400 cards, it is not enough. I had to create new cards that aren't the part of this set such as "this", the English articles  (a, an, the) and the verb "is." As I haven't got a black marker my new words are red again like at the beginning. I don't consider it a problem after we have completed all the cards. Anyway, Doman doesn't say that we have to produce new word cards for jumble sentences so that they are the size and colour consistent with our actual step. I assume we use whatever we have which contributes to a kind of mish-mash of words in different sizes. The red colour prevails because all our single words are red. When handwriting, I do my best to imitate the printed font. I admit openly that I asked my brother-in-law for writing "a" for me. I had problems with writing it in a correct printed way.
OUR WORD CARDS IN ENGLISH MODIFIED
Inspired by my husband's set of small cards, the size of which really speeds up the presentation, I decided to change mine. Maybe it isn't visible in the pictures but the cards in my English set are enormous. The reason for this is that there is usually too much white space around the text. That's why I started cutting some white fragments out and making them smaller. The smaller they are, the more convenient they are to use. I don't throw the cut-out pieces. Maybe they will be useful in the future for the words I will want to write. Here is one of the cards before and after modification:  


The "Hat" word card presented in the main picture for this entry is also smaller than it used to be. In the ready-made set of word cards all the cards are the same size no matter if the word is long or short.
Have you found my experience useful? If yes, share with others.  I would be really delighted if you leave a comment and share your experience and ideas. 
You are invited to follow Facebook fanpage and to subscribe for this blog.
I have created a Facebook group for parents doing Doman as I haven't found any. This is just the beginning but I hope there will be more and more of us soon and that we will share our experience with one another.