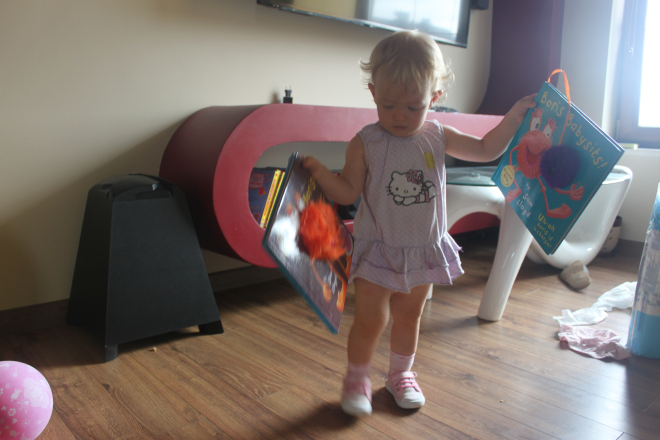 SURROUNDED WITH  BOOKS
Some time ago I mentioned our morning routine with a book. A lot has changed since ten. The reason for that is that Maja is a bit older and I know it won't be possible for me to read a book to her in the morning from September (I am coming back to work). What is more, I got inspired by the blog entry on another blog which I follow. It is a Polish blog but if you know the Polish language I recommend you to read the whole article because I have just summarized the main points.
We still read a book in the morning from time to time. However, the main focus is on days, not on mornings only. Maja has a contact with books all day round. Every 5 days I put a different book into her playpen. Once I even counted how many times she had used it: 10 times daily. I think this confirms that she is interested in books. While observing this, I just closed a book every time it was open. When it was open again, I knew she "read" it again. 
Of course, I do not limit Maja's exposure to books to this. I read a book placed in her playpen and at her full disposal at least once a day. She sometimes wants me to read it again. We also look at the pictures and I do my best to tell her the name of everything she points at. There was a short period during which my husband did the same with Polish books, however, he stopped do it.
Moreover, I choose another book and read it to my baby daily e.g. during our meal  times. After five consecutive days, I take another one.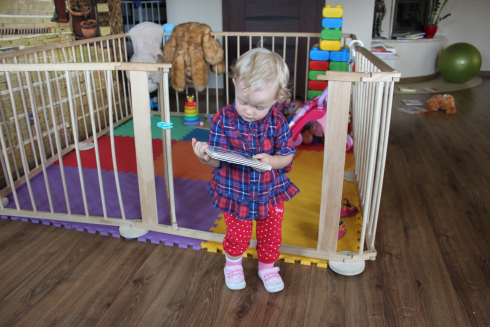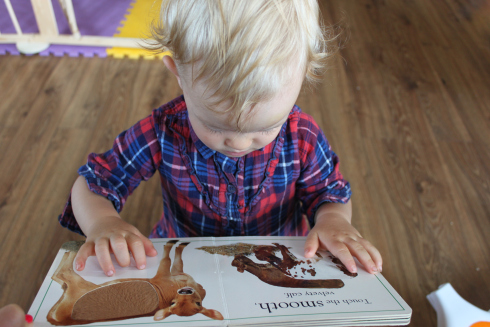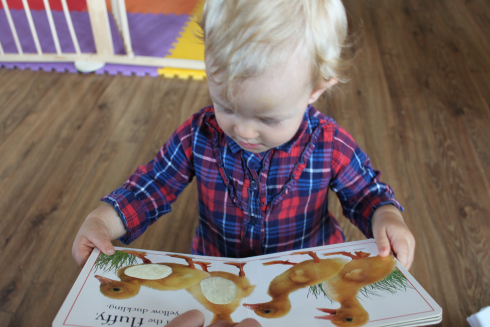 Our baby is spending more and more time outside her playpen and it often happens that all the books are at her full disposal. Following the advice from the blog I have mentioned earlier, we do not get angry when she makes a mess throwing all the books around the floor in the living room (. There is much more advice there and I bear in mind all of it.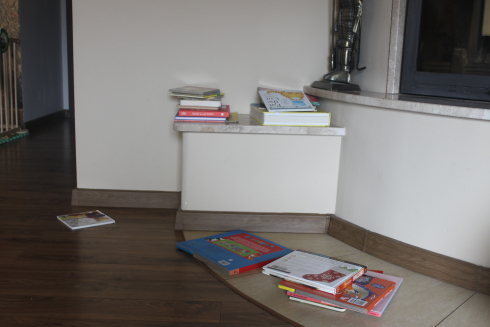 HOW TO GER YOUR CHILD IN LOVE WITH READING AT A VERY EARLY AGE
I stick to all the principles taken from bilikid blog. The article is actually in the Polish language but I have summarized and translated the main points: 
1. I never worry that our books may be destroyed. Most of them are indestructible anyway. I do not encourage damaging them, of course, but I do not get nervous when Maja tears away something. To tell you the truth, Maja has only damaged one pop-up Polish book because it was not suitable at all for her age. Somebody has bought it for her without thinking about it. 
2. There is at least one book at my baby's disposal if she is in her playpen. If she runs around the house, she has all of them at hand. 
3. If she brings us any of the books, both I and my husband stop doing whatever we are doing and we start reading it to her. Books and her need to have a book read to her is a priority. 
4. We suggest buying books as presents for Maja.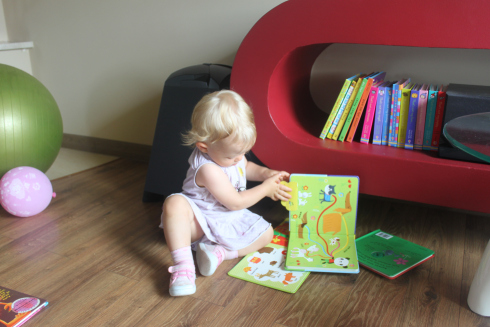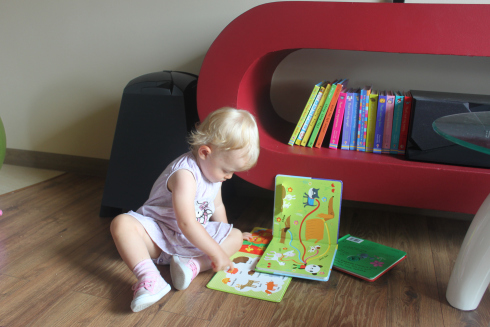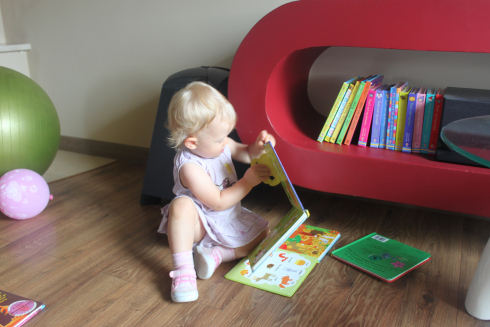 MUMMY READS = A KID READS
In my opinion, we have to set a good example to our children. Without this the above-mentioned rules for getting your child in love with books simply won't work. Maja often sees me (her mummy) with a book. 
Recently I have been reading books in Italian only but Maja doesn't realize it yet that a book I read is not in the English language which I promote so much. Every book has its value and the most important thing is that she often sees me reading.
I also do my best to avoid Maja's seeing me with a smart phone or in front of the computer. If I use a laptop in the morning while preparing breakfast for her, I use it in the kitchen so that she can't see it. She is in her playpen at that time. 
I hope that with such an approach on my part, she will love books in the future, too. I know it is not possible to avoid all technology which has entered our lives but I will try to keep her away from laptops and other similar devices for as long as possible. The later she starts to use them on her own, the healthier for her. 
My reflections remind me of a picture which I saw on Facebook some time ago: there were two mums with kids sitting on a park bench, one was reading a book, the other using her smart phone. The kids were doing the same as their mums. Mummy with the phone looked a bit jealous and asked the other mum how she managed to make her child read and to like reading. There was no answer but it is obvious: if a kid sees his or her mum reading, he or she will be more encouraged to read. On the contrary, it will be difficult for a mum who doesn't read encourage her child to read. 
My reflections are confirmed by a couple of Polish psychologists Natalia and Krzysztof Minge. In their book "Jak kreatywnie wspierać rozwój dziecka" (How to be creative when it comes to supporting your child's development) they say that if a child sees his or her parents over a book, there are great chances that reading may become his or her passion in the future. Kids' future interests and passions depend on their parents to a large extent.