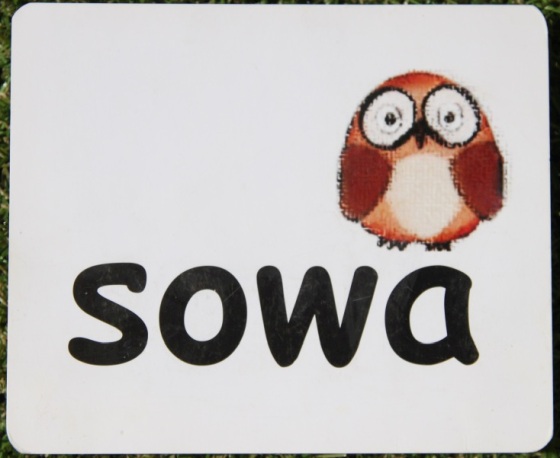 ILLUSTRATED CARDS IN THE DOMAN METHOD

I have mentioned recently that I decided against introducing digits in two languages simultaneously because our baby is really interested in her reading programme in Polish and I don't want to interfere with maths. The problems with her attention span after she learnt to climb the furniture have passed.
After daddy presented all the cards with first red words, he started a set of cards which is completely different from its English equivalent. I can say these are supercards. I think they are much better than the cards  I used for the English counterpart of the reading programme because they are double-faced. They are word and picture cards. My baby sees the word first e.g. mummy and then daddy flips the card and shows her a picture with a caption "mummy."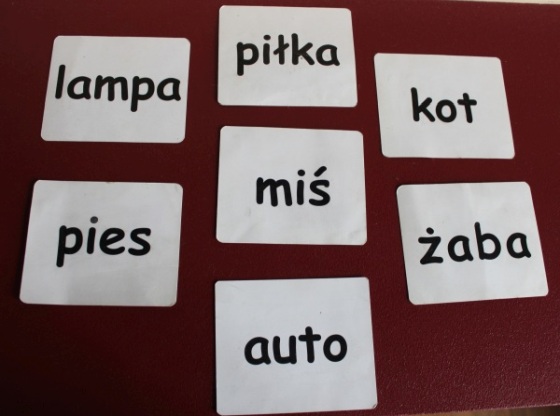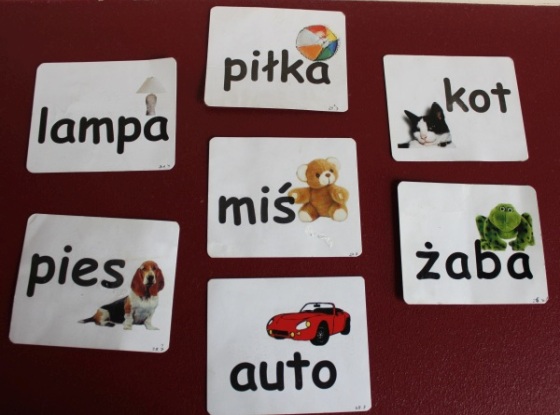 Glenn Doman focused on the words only and he didn't think about such cards. However, his advice concerning first books to be read by kids is relevant to these modified cards. The baby sees the text first and focuses on the text first before seeing the picture. This picture is so interesting for Maja that she looks at each card for a long time without lowering her gaze waiting for daddy to flip it.  She must be really busy not to pay attention to the cards for a few seconds. Fingers crossed for daddy. I hope he will take full advantage of her interest 🙂 
Daddy will deal with maths later. Anyway, he won't have much to do. He will just have to present digits from 1 to 100 in Polish.
I tell off my husband a bit because he spends too much time on one card. He is tempted to do this because our baby is really interested. However, I think he needs to follow Doman's advice to go through them as fast as possible without lingering. 
WHY THE POLISH CARDS ARE BETTER?
First of all, the Polish cards I bought are more user-friendly than the English ones which aren't comfortable to hold. The Polish cards are smaller and there is not much empty space around the words like on the English ones. I think the cards for the English part of the programme have been unnecessarily made too big. It seems that for the speed of each session even the size of  matters.
ON THE EDGE OF MADNESS?
I suspect that some of you while reading my posts ask yourselves a question: how does this mother find time and strength to do all this? Or maybe you have just assumed that I have no time for myself because I do Doman all day long. No way!
While browsing the Internet I came across a blog about the Doman method where a discouraged mother shared her experience. She gave up the reading programme really quickly. For her doing Doman was like a hard labour. She felt really exhausted. 
I am not surprised she gave up. I think she was too ambitious in her approach. I even suspect that she didn't read any of Doman's books but that the Internet was the source of information for her. 
Most of all, every time she was going to have a "lesson" with her baby, she tried hard (and she succeeded) to make her baby laugh while playing. She started presentations only when the baby was laughing or smiling. Can you imagine this? Can you imagine doing that 18 times per day at regular intervals? This is  madness. A smile and a laugh exactly when we want it! By the way, you don't have to have 18 sessions per day. Continue reading and you will find out mine and my husband's approach. 
Depending on a parent's temperament and and free time, each of us must modify Doman so that whatever programme we choose, it is not a burden. I don't think there are many parents out there who can imitate me. Am I wrong?  Are you similar to me or to my husband? Read the description below and modify the Doman method according to your needs. As you already know the basic principles are for those even crazier and more energetic than me:
 – 5 sets x 5 cards for the whole-word reading daily (I had 4 sets)
– maths – 3 sets at the beginning, then 6, then 3 again and in the case of maths I have stuck to that.
However, I admit Doman never refers to doing reading and maths programmes simultaneously. This is my idea.
If you don't have enough time for more than 3 sessions per day, even 1 set of cards will do. One is better than none. This is my personal opinion. Never push yourself.
MUMMY AND THE ENGLISH TEACHER WHO INITIATED THE DOMAN METHOD AND NON-NATIVE BILINGUALISM IN OUR FAMILY
I think there aren't many mothers like me. Most of you will probably follow my husband's approach to Doman. First, a bit about me: volcano of energy and millions of ideas per minute. For me the Doman method and raising Maja bilingually is one morehobby. It's a sheer pleasure to do what I am doing. 
Despite all the effort I have undertaken, I am not a prisoner in my own house. Actually, there were weeks while I was away from home. Since we started our adventure with Doman I have completed 5 teacher training courses abroad which lasted from 7 to 17 days. Moreover, I was on holiday with my husband  twice. It lasted at least 7 days.
Despite this I am still breastfeeding and up to the age of 10 months Maja has never tasted a different milk than mine. During my absence there was enough stored in the freezer. It's my abracadabra because they are a lot of people who can't believe it.  
I strongly believe this is the best for my daughter. I am sure this has positive impact on her mind, her eyesight, her immune system and it probably has many more benefits. I don't care if somebody criticizes me thinking I should stop doing it because it lasts too long. I don't feel limited in any way because of this so I don't see any reason I should stop. And I will emphasize again: I am not stuck at home with a baby and Doman all day.
One week after a C-section I was hanging out with my friends. I try to go out regularly. I have already mentioned on this blog that I wasn't able to do any exercise for a long time. I can now and I work out in the gym 4 times a week. In the meantime I managed to get CELI 4 which is an exam confirming my C1 level of Italian. 
I have done millions of other things and I don't understand my friends who completely disappeared from social life after their baby was born. They claim they don't have time for anything. They want to stay fit but they can't find even 30 minutes per day to exercise. I think these are just excuses not to do anything else apart from taking care of the baby. They would probably have the same excuses when it comes to early education. 
I am good at multitasking. I learn Italian, then I have a break for practising British pronunciation with a YouTube video, next I do Doman with Maja and soon after that I continue reading a book I started earlier. After 30 minutes I do something else. 
I am extremely organized with all that. I always prepare the cards the day before. It happened only a few times that we didn't do Doman at all when I was at home.
Right now I am on holiday but I start full-time work in September. I returned to work in June but this doesn't count because it was only for 2 weeks. From September on we will see if I am able to do what I am doing now. After completing whole-word reading programme in English I have only 9 sessions daily left (maths, flashcards, personalized books). I had 18 before. Apart from the Doman programmes I read at least two books daily to Maja. 
I am not sure how I will manage while working so I do not plan anything. We will see in September if I am able to continue what I am doing or if I have to resign from something. I know for sure I won't push myself if I don't have enough free time. 
Because of that I advise everybody interested in the Doman method: take advantage of the time on maternity leave, start at birth. Generally, we have time for introducing maths with dot cards up to the age of 3, for whole-word reading it is even longer. However, the later you start the more challenging it will be for you to catch attention of  your child. 
I  started when Maja was 5 or 6 months old. I wish I could have started earlier. If I had done it, it is possible that our final sessions with whole-word reading cards would have gone more smoothly. However, as I have written here, we completed the cards during Maja's most intensive physical development and this final stage with the cards was really challenging for me. 
A LAID-BACK AND EASYGOING DADDY RESPONSIBLE FOR THE POLISH PART OF THE READING PROGRAMME- HE ACCEPTS EVERYTHING I DO 
Daddy is making progress at the speed of a snail despite everybody's help. Today, for example, he presented his set only once because I asked Maja's granny and my brother-in-law to deal with the previous ones.
His sessions still consist of single words and there are a lot of left. For comparison it took me about 5 months to complete the whole reading set in English. However, I was really focused on this. After 4 months with Doman Daddy is still at the beginning but maybe it is not a bad thing. 
We represent two completely different types of parents and we show that the Doman method is for everyone, not necessarily those who are as organized as me. As long as you systematically do even a small part of it, it doesn't really matter how much free time you have got.  
I don't push my husband in any way because I know the Polish language will dominate. On the other hand, I know I can't push him because it would mean changing his character. He is my opposite as he is calm and disorganized (I prepare his cards the day before). It often happens that he doesn't manage to have 3 sessions per day and then he has more the following day. It is me, of course, who reminds him about that and who retires one card and replaces it with a new one after he catches up with the material. 
I am sure he wouldn't do anything if it weren't for me. When I was away, the Polish set of reading cards disappeared at granny's house and it was found only on my return. This means that during my absences Maja had breaks both from English and Polish reading programmes. 
As for the language, daddy speaks English, too. I completed B2 level with him and we even started C1. Nevertheless, he got discouraged by vocabulary which didn't seem very useful to him. We tried a few times but he isn't eager to speak English at home. However, my plan is that soon after our baby goes to nursery school or to kindergarten which means even more contact with Polish, we will have one English day per week. I hope my husband will agree to speak English only on this particular day.
Have you found my experience useful? If yes, share with others. What kind of a parent are you? How are you doing with Doman? I would be delighted if you leave a comment and share your experience. 
You are invited to follow Facebook fanpage and to subscribe for this blog.
I have created a Facebook group for parents doing Doman as I haven't found any. This is just the beginning but I hope there will be more and more of us soon and that we will share our experience with one another.